Sonwil Named Buffalo's Largest Trucking and Logistics Company for 2023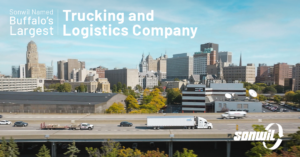 BUFFALO, NEW YORK – October 20, 2023 – Sonwil is proud to announce its recognition as the largest trucking and logistics company in Buffalo for 2023 by Buffalo Business First.
With a dedicated team of 316 local staff members, Sonwil has consistently demonstrated its commitment to excellence and superior service in the logistics industry. This recognition from Buffalo Business First reaffirms the company's position as an industry leader in the Buffalo region.
For more than 80 years, Sonwil has been a proven leader in the Supply Chain, Logistics, and Transportation space. The company provides warehousing, fulfillment, full load trucking, drayage, intermodal, less-than-truckload, and parcel across North America to many Global 500 brands. Sonwil is fixated on providing efficient, cost effective, and reliable solutions that solve its customers' real-world supply chain challenges. The company's success is attributed to its commitment to excellence, cutting-edge technology, and a highly skilled workforce. Their services have played a pivotal role in supporting local businesses and strengthening Buffalo's logistics industry.
For more information about services offered by Sonwil, please visit www.sonwillogistics.com
Subscribe and never miss an article!