Top Three Drivers of Cost in Logistics and Transportation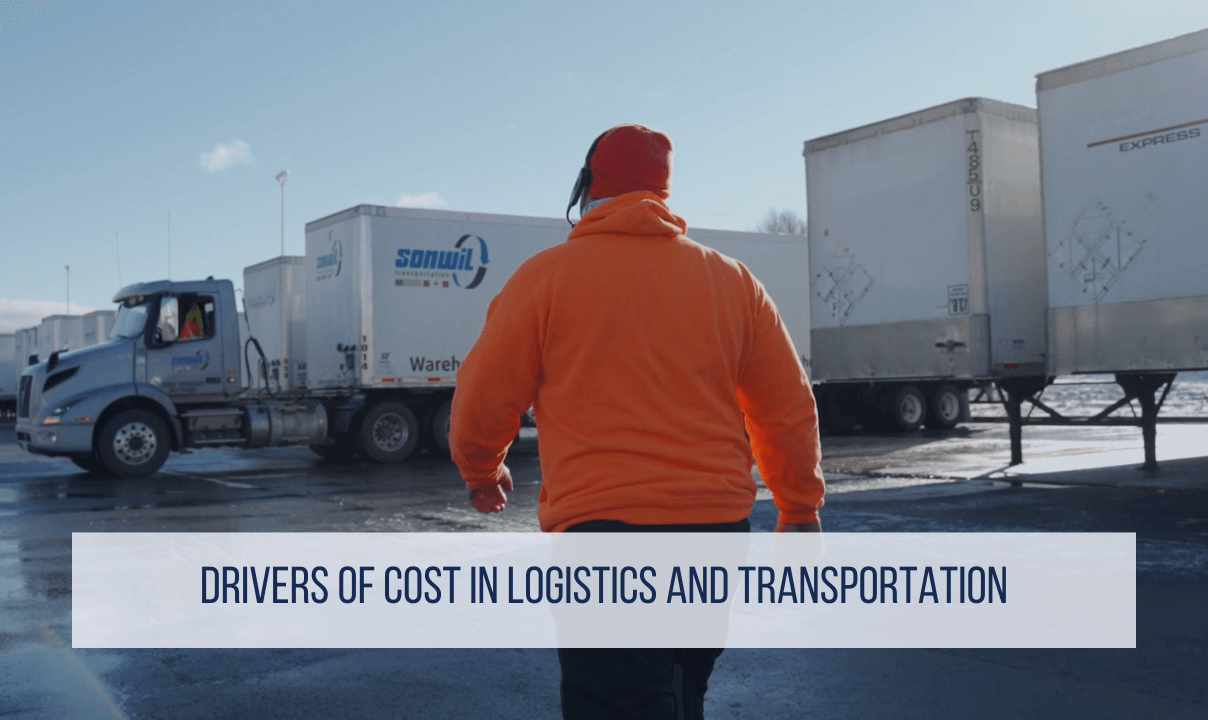 The Cost of Supply Chain Disruptors has become a Kitchen Table Conversation
Well past the waning of the pandemic, shelves at the local grocery store are often "slim pickins" for some of the most desired products. During COVID, the disruptions in America's supply chain, and the increased cost of goods associated with it have become kitchen table conversations.
Today's logistics and transportation professionals are operating in an ever-evolving ecosystem that is rife with unexpected events as they struggle to drive process improvement in an environment where so many factors seem out of their control. The end goal, to deliver a commodity, assembly, or finished product on time, in full, and within budget. To do so, supply chain leaders, need to consider the current environment and create change that will drive improvements to eliminate waste, increase velocity, and reduce total landed cost.
In an effort to explain the cause and effect which has a hand in determining the cost of consumer goods, Jason Ickert, president of Sonwil Logistics | Sonwil Transportation discussed with his team the top three drivers of cost in the logistics and transportation space. During the discussion, he provided insight into ongoing market volatility, sourcing decisions and geo-political considerations, and the recruitment of a new generation of supply chain and logistics professionals. The following are some excerpts from the conversation:
1. Market Volatility
Market volatility is defined as the frequency and magnitude of price movements, up or down, in the market…basically the swing of price changes in a market. In truckload transportation specifically, increased market volatility, as we've experienced over the last couple of years, has a significant impact on the cost of goods.
Truckload capacity and demand are well-known to run in cycles which manifest as varying levels of ebb and flow within both specific and various markets. These cycles are most often predicated on seasonality related to calendar events and geography. The calendar determines seasonal holidays that drive demand for transportation. We see this each year, especially in the rush to import, distribute and shelve the plethora of goods that sell everywhere from back to school, through Halloween, Thanksgiving, Black Friday, and ultimately Christmas.
Geography plays a role in the market volatility surrounding the holiday push, specifically in both ocean and inland port cities where container velocity picks up, transloads are common, and truckload demand spikes. But geography is also a factor that experiences weather. When it's cold and the ground is frozen in the north, outdoor construction and leisure slow down. There is usually a lull in truckload demand, especially in building and outdoor products. As spring warms the south, produce ripens leading to harvest and then a quick window for distribution opens.
Increased demand, as mentioned above, drives costs up. But there is a flip side to the truckload markets too, usually predicated by a slack market which leads to decreased demand and an increase in capacity. When capacity exceeds demand truckload prices per mile drop, competition for loads is increased, and margins compress. This is bad for the trucks, unfortunately, but has a positive pricing impact on buyers and consumers of goods.
Shippers and carriers have become accustomed to cyclical changes in the market. It's the unexpected volatility that wreaks havoc on transportation budgets. What's interesting is the impact volatility has on shipper routing guides. Routing guides are often referred to as "waterfall", but it's more like a run up the waterfall or perhaps might better be described as a "salmon run". In a typical routing guide process, a shipment is tendered to the first carrier at a specific rate. If they are unable to accept the tender it moves up the salmon run to the next carrier which might have a higher rate to haul than the previous, who either accepts or rejects, and if rejected moves up and up the salmon run until the tender is accepted.
As trucks are taken out of the market, because they've accepted a tender, the next truck from the same origin gets more expensive. High demand and low capacity drive increases in the rate of transportation services. On the contrary, low demand and high capacity create markets where rates are driven down.
2. Geography and the Impact of Cost as a Result of Sourcing Decisions
Over the last several decades, manufacturers have leveraged their production costs by sourcing products and activities in countries around the world where the cost of products, labor, and even money was lower than in the United States. More recently, because of the increased risk of supply chain disruption; pandemics, war, and/or acts of God, sourcing leaders are taking a hard look at their decision-making, adding the cost of risk, and trending toward a risk aversion or risk limiting strategy of onshoring, nearshoring and in some case re-sourcing products and activities to bring them closer to the point of consumption.
Bringing manufacturing and process activities back to America and closer to American consumers is a monumental task. While it may seem slow-moving, we're seeing the impact of it today on our transportation sourcing strategy as new demand has opened up in markets that we as transportation asset owners and service providers are building up capacity for. At the end of the day, reduction in supply chain risk by solidifying a multi-pronged geographic approach to sourcing is good practice. Even though traditional supply
chain mantras tout that complexity increases cost…the cost of disruption seems to outweigh the cost of complexity.
Having multiple options, near and far perhaps, segmenting business and diversifying relationships are critical to both continuity and profitability. Avoiding the temptation of "putting your eggs all in one basket" seems to be a more sustainable strategy to combat unexpected and unprecedented events.
3. Recruiting a New Generation of Supply Chain and Logistics Professionals
The old adage, "If you got it, a truck brought it" still rings true today, but it doesn't happen unless there is a truck driver in the driver's seat, logging the miles and bumping the docks. The conversation around the "truck driver shortage" may be
negligible. There's a counterargument that includes developing and training supply chain professionals as a whole to understand how to create supply chain efficiencies and increase velocity, and by doing so, might alleviate the pressures that are put on America's truckers.
Data shows that the conversation is more around driver dwell time, and if shippers and receivers, supply chain professionals, implemented solutions that reduced dwell time, the stable of drivers we have today would be enough to service an efficient system. At the end of the day, it's not one or the other that needs to occur, but a combination of both…add more drivers, and at the same time train up shippers and receivers in their role to reduce dwell time on their docks. The attention that the supply chain as a cost center has created an interest in developing logistics skill sets from the warehouse dock to the C-Suite and everywhere in between. As members of the logistics ecosystem, it's important that we engage ourselves in programs that develop new leaders and promote the roles that create careers in our industry. Professional supply chain, logistics and transportation roles have an incredible impact on the economy and our communities both…supply chain professionals are trained, problem solvers. The beauty of it is that there is a low barrier to entry. The best in the supply chain isn't necessarily college-educated and advanced-degreed professionals. In fact, many supply chain professionals do not have a secondary or post-secondary degree. What they do have, however, is curiosity, a desire to learn, a solid work ethic and a passion for embracing an industry that turns the wheels of America's economy.
To learn more about our opportunities please see our careers section on our website.
Subscribe and never miss an article!